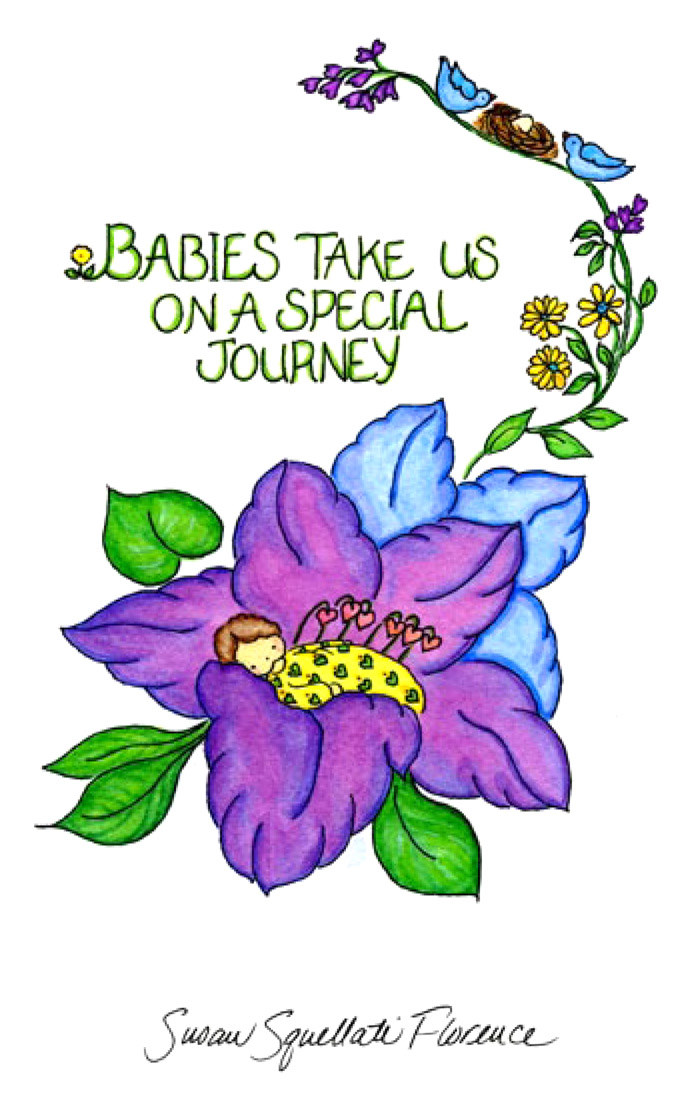 Babies Take Us on a Special Journey
…a heartful gift to all new parents… a timeless message of the love a new baby brings to all of our hearts.
"Babies take us on a special journey. They bring us to a place we never knew existed, but was always there inside, just waiting for a child to open the door. This is the place where loving begins."
This quintessential, classic baby book has been republished with the same endearing message of the love a new baby brings…and with more happy, whimsical illustrations. Babies Take Us On A Special Journey has been requested by many throughout the years and it finally has been reprinted. Guaranteed to touch hearts, Babies Take Us On A Special Journey celebrates and shares the greatest gift we can ever have: A Baby's Love. This heart-warming book is a wonderful gift for every family with a new baby, for baby showers, adoptive parents, and new grandmas!
I love your book—I received one 24 years ago when I had my daughter and your poem is my favorite—and what a special journey it has been. Thank you for your gift of word.
Lenoir, NC
I bet I gave over 100 of this baby book in the 80's and 90's. Excited to see the new edition. The message is so sweet.
Debbie L.
I wanted to share with you how much your book meant to me as it was a gift from my mom when I was pregnant with my first child. Twenty/plus years later, I am desperately looking for a nice copy to give my niece who is pregnant with her first baby. Thought I would reach out to you just to tell you how much I've always loved the book, but also to ask if you might have advice on how or where I may be able to get nice editions.
Lorraine F.
This book is the perfect gift for every new mother! It helps new moms realize what their own mothers went through with them, and helps build an appreciation and bond with their own mothers. It is touching, loving and beautifully written and illustrated. A very tender and special keepsake! Great for someone you love dearly.
Amazon Reader