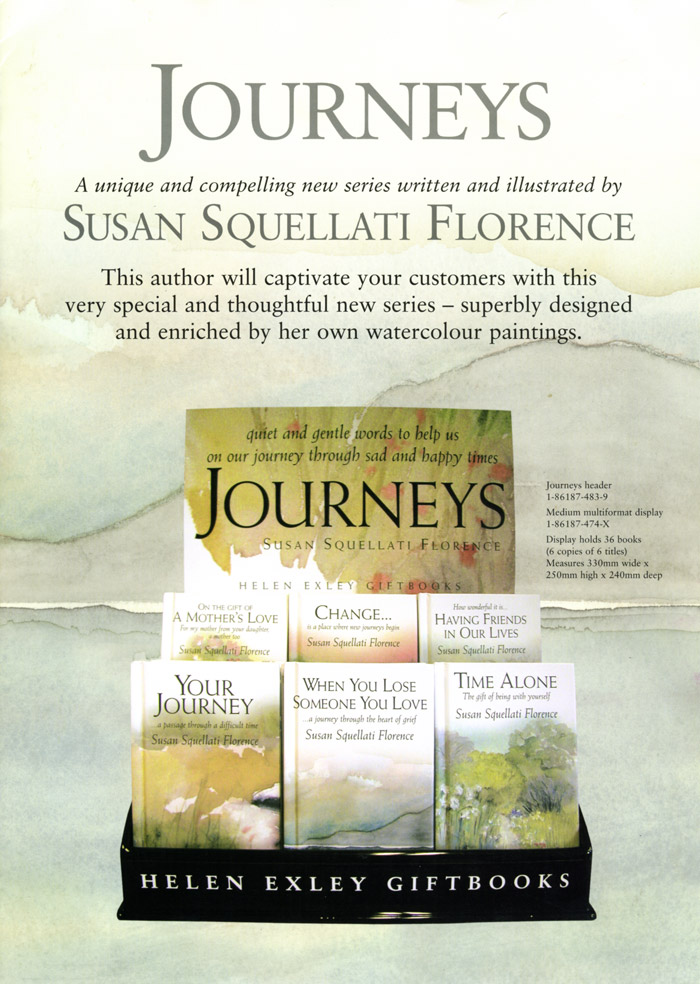 The Journeys Books
In May of 2001, Susan met Helen Exley, a UK book publisher, known worldwide for giftbooks of beautiful art and thoughtful quotes. With Helen's editorial direction, Susan created Journeys, a collection of books to offer connection, comfort, and inspiration along the journey of our lives. The line grew from six to eight titles, was translated into many languages, and has sold 500,000 copies worldwide.
But in 2008 Exley had to shut down their U.S. warehouses and the rights, except for the UK and France, have reverted to Susan.
There is a major opportunity for a U.S. publisher who is interested in this series of spiritually nourishing books. The market to Hospice centers alone is enormous.
Livingston Visiting Nurses and Hospice in Ventura, CA. has bought every year since 2008, through a special arrangement, 800 of the title When You Lose Someone You Love, a journey through the heart of grief. This giftbook is sent to every Livingston family who has lost a loved one with Hospice. The emails of thanks to Susan and Livingston give tribute to the comfort offered in this small, meaningful giftbook.
This note received recently from a reader:
Hi Susan,
My wife, Ila, passed away last week. Livingston VNA sent me a copy of your "When you Lose Someone You Love." Ila and I were married for 57 years and I found the words in your book very helpful as I try to cope with Ila's loss. Thank you very much.
Fred